Fort McMurray's popular Abasand neighbourhood is a great place to call home!
Encompassing a portion of the original Abasand Oil Sands, Ltd. property, which ceased operation after World War 2, there is a feeling of history, here. From River View Heights to the aptly named Abasand Heights, the Abasand neighbourhood rises above the rest of the city, boasting excellent views and a strong sense of community.
Like so many Fort Mac neighbourhoods, Abasand was severely affected by the 2016 fires. Fewer than 500 homes survived the blaze here, but the collective resilience of Fort Mac is evident on every Abasand doorstep. The result of the heartbreaking devastation has been a sort of "refresh". New single-family properties and condos are bringing an exciting vibrancy to this established part of town. Spacious, mature lots, well-used parks, hiking trails, and a convenient location just minutes from the city centre mean this continues to be a highly-sought-after area for home buyers.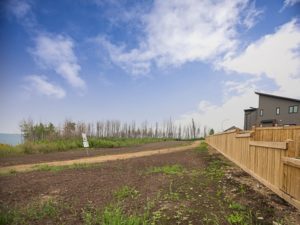 Tucked into the elbow of three rivers (the Athabasca, the Horse, and the Hangingstone), Abasand sits on a plateau surrounded by forest. It is a neighbourhood that truly shimmers, with views over the sparkling water, the twinkling lights of the city, and the amazing Northern Lights.
Community life here happens outdoors! A friendly and welcoming neighbourhood, you'll find quiet streets that invite walkers, bikers, and kids playing on the lawns. Multiple parks and playgrounds, direct access to a beautiful greenbelt and river trail system (including off-roading tracks), and public fields, sport courts, and rinks give everyone in Abasand a reason to come out and play!
Although once exclusively an enclave of family homes, the rebuild of Abasand has opened up a more diverse housing market. The family-oriented areas are still comprised mainly of single-family houses. A majority of these are stunning multi-storey new construction: energy-efficient and boasting high-end finishings and bright, spacious rooms. Buyers will also find numerous charming cottages and bungalows –echoes of the community's history, revitalized for 21st-century living.
For buyers just entering the market or looking to downsize, Abasand is now home to plenty of duplexes and townhomes which showcase traditional design, modern details, and plenty of privacy. For those who live here on a part-time basis or appreciate a more communal lifestyle, several well-designed multi-unit condo buildings take advantage of the great location and views, as well.
Dining, shopping, and recreation are all within comfortable walking distance in Abasand. Ready access to public transportation, as well as the highway and downtown, puts the greater Wood Buffalo region's amenities within easy reach. Its small size and big heart make this a pleasant place to settle down.
---
Abasand has truly risen like a phoenix from the 2016 ashes. It maintains its place as one of Fort Mac's most beloved neighbourhoods, attracting a range of residents with its comfortable lifestyle and perfect location.
If you're ready to build your nest high above the city, let the experts at Coldwell Banker United guide your search. Contact us to see how we can help you to find your ideal Abasand home.