The February 2021 YMM real estate news is out!
⭐⭐HIGHLIGHTS⭐⭐
it's been a busy start to the year

inventory levels remain low

prices appear to be trending up
From the region's real estate board:
February sales eased compared to last year's levels, but thanks to the gains in January, sales over the first two months remain better than levels recorded over the
past six years. At the same time, new listings continued to ease keeping inventories at low levels in this market.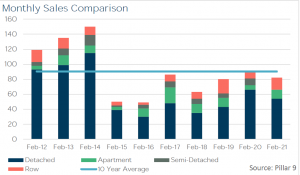 The low level of inventories relative to the sales has caused the months of supply to remain just above four months. This is far tighter than we typically see for this time
of year and is likely placing limits on the sales activity.

Prices appear to be trending up over the previous month but remain below last year's levels. However, price movements across the market are likely more of a
reflection of changes in the distribution of sales rather than a reflection of trends in the market. There has been a greater share of lower priced sales thanks to recent
gains in row and apartment product. Meanwhile detached sales have eased likely due to some supply constraints especially in the lower end of the market.
Want to know more? interested in the all the stats and reporting?
Click here for the 2 page summary
Get the Lac La Biche monthly statistics
What does all of this mean to you as a buyer or seller?
The market may be in the right place for your next move. Contact any of our associates to find out and discuss your next move.